CORONAVIRUS ACTION PLAN
Our system has been in place since May 2020 and has made the transition back to work feel almost normal again.
We have made a lot of effort into making customers and staff feel comfortable when visiting our premises during this Pandemic.
We continue to insist on the 2-meter minimum distancing.
Whenever possible we greet customers outside near the reception building.
We ask customers to adhere to the well sign-posted One-way system introduced into and out of our reception.
Reception is a one-at-a-time person only where we ask all customers to wear face mask coverings.
Contact-less and normal PIN card payment is available in reception. Other payment options are BACS and we still accept cash which we sanitize.
We sanitize reception regularly, paying particular attention to card machine and desk areas, and there is sanitizer available for customers use.
We hope you have a positive experience when visiting our yard.
Thank you for your support.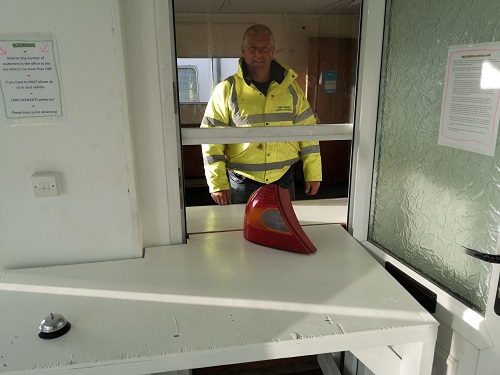 CORONAVIRUS ACTION PLAN:
MATTHEWS AUTO SALVAGE.
OPEN for business normal hours, with minor procedure changes.
Update 20/05/2020: During the current uncertainty surrounding Coronavirus we would like to reassure you that it is our priority to protect the health and best interests of our customers and staff at all times.
We are taking the current uncertainty surrounding Coronavirus seriously and are changing some procedures to adapt to the new situations.
• If you as a customer have the symptoms of Coronavirus or have been in contact with someone who has please do not visit our site. Parts can be left at pre-arranged times just off our premises near our entrance.
• Scrap Car collections will continue but with extra precautions taken both at the initial contact point (telephone call) and at the point of collection. Employees will use PPE and regularly clean and sanitize our recovery vehicles. Please keep a minimum of 2-meters from our Drivers / staff. Photographs of all necessary customer I.D's (Drivers Licence preferred) and bank details (for payment) can be done at point of collection, or sent digitally (photo). Payments will be made electronically by BACS. V5's and keys to be left in secure pre-arranged location.
• Parts Inquires. Most of our sales/enquiries are initially made via telephone enquiries. This is the preferred method. Items can then be made ready. Our dismantling staff us PPE and wash their hands more regularly than usual.
• Point of sale procedure: Wherever possible we aim to greet customers outside in the vacinity of the Customers Car Park. Please keep the 2-meter distancing. The office reception has been adapted into a ONE WAY system, with a screen and hatch between customers and staff to help protect everyone visiting our site. There are 2m markers on the way IN to assist with social distancing. Only one customer is permitted in the reception at any one time. Please limit any time spent in reception or in vicinity of other persons to a minimum. The Reception is cleaned and sanitized at regular intervals. Alternatively, on arrival at our car park you could contact us by phone, whereby we can deliver your item to one of our collection points in the car park, our porch or reception
• Payments. The preferred method is BACS or Cards. There is a contact-less card terminal in reception which is sanitized regularly. If there is another customer in reception please wait until they leave by the separate EXIT door. If you have to WAIT for an item, you may be asked to wait outside or in your car if there is a queue to allow others to be served, to save time and assist in distancing. We also accept cash, which will be sanitized.
• As has been our normal procedure for many years, customers are not permitted within the working or storage areas of the yard.
• Bringing or sending a photograph of your required part is good practice to ensure correct supply.